On the one-month anniversary of the world premiere of the MacGyver: The Musical album, we take a closer look at the recording process with Broadway veteran Brandon Victor Dixon, aka 'BVD' (Tony, Emmy, & Grammy Award Nominee known for his Broadway roles in The Color Purple, Motown: The Musical, and Hamilton)  – who takes us behind the scenes of the making of his song 'Drink Drink Drink' on the MacGyver: The Musical album.

Drink Drink Drink (Track 14) on the MacGyver: The Musical Album is one you will want to hear on repeat – a strategic celebratory toast leading to the musical's climax, led by the shady yet extravagant European smuggler Boris Skratchzmyich, who assists Ingrid and MacGyver in bringing down the Berlin Wall and preventing World War 3.
Not only does BVD light up the album with his masterful performance – the man behind the 'accent' has that same knack to light up a room as he did during his interview (we had to edit out crew laughter from the video) – but don't take our word for it: 
Watch the video and check out his full interview below:
INTERVIEW WITH BRANDON VICTOR DIXON
By Rosie of MacGyver Global
Q – What's your name? Where are you from? And what's your involvement on the album?
A – My name is Brandon Victor Dixon I'm from Gaithersburg, Maryland; and I am singing the song 'Drink Drink Drink'
Q – How did you get involved with this project?
A – I'm friends with the creators- Lee and Steven Gluckstern. I was friends with Steven Gluckstern and he introduced me to Lee. I've done a number of musicals – performed in them and produced them. I thought it was a great idea. We had early general discussions of what they were thinking, how they were thinking of approaching it. I've always been a supporter of the project.
Q – What does the term 'macgyver' mean to you?
A – Persistence… but it's a verb now. We all know 'macgyver' is a verb now. Congratulations Lee – Richard Dean deserves some credit for that. It's to engineer one's way out of a situation with unique ability. "How did you do that?" "I had to macgyver that." We all know what that means.
Q – Have you macgyvered anything recently?
A – In life absolutely. One must endeavor to macgyver. So if you endeavor to macgyver, you must macgyver – that's the point. It's macgyver. In particular – There are a number of things in my apartment that my landlord will discover after I move that have been macgyvered: the shower head, the stove… [cue crew laughter]
Q – Moving along… What's it been like working on this project?
A – It's just been great fun. My participation has been limited but it's been great fun to hear about each step of the process and hear about the ideas going forward and hear the music coming out. Peter's done some great stuff.
Q – Has there been any challenges bringing the music to life?
A – I'm sure – I'd send that question to Peter. But for this song in particular: I don't have access to the accent qualities that this character is really supposed to have – he's supposed to be generically Eastern European and that's not my strong suit…. So I'd say navigating that.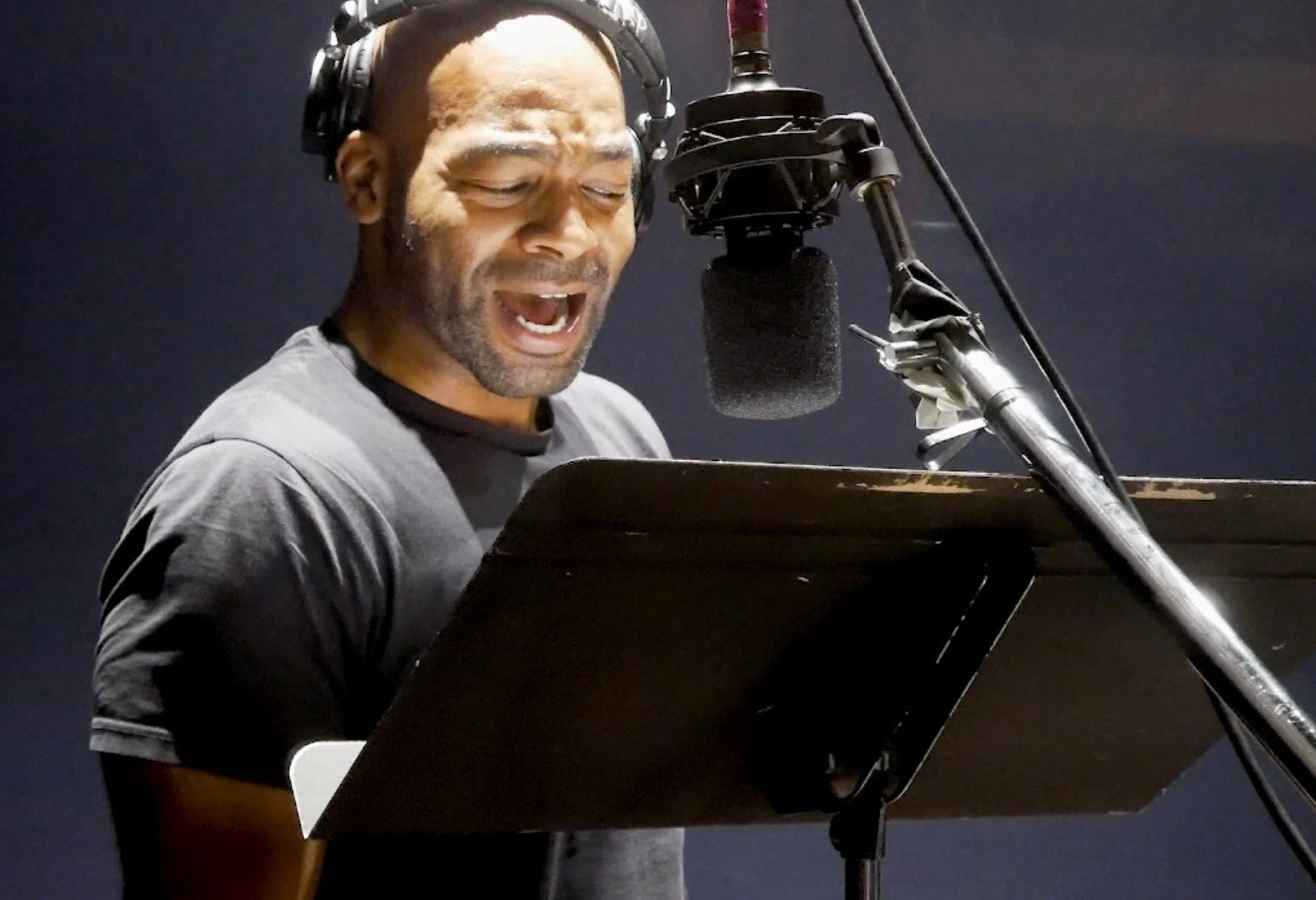 Q – Do you have a favorite lyric in your song that comes to mind?
A – "We're gonna get a beer buzz!" …'Cause I just like it…[laughs]
Q – It's definitely one of the most fun songs on the album! If you could share this album with anyone, who would you?
A – I would share this show with a lot of my friends and colleagues because I think it's an interesting concept and I think it's interesting how they're making a new hybridized musical. A lot of people I'd share it with.
Q – Anything that will surprise people about this album?
A – I'm sure – just the idea of a MacGyver musical is a concept that's already difficult to conceiving what it could be anyways so I think the show and the music in general is going to surprise people at how fun and how much it can work and still give you that nostalgic macgyver feeling we all want to be a part of.