February 2 & 11, 2022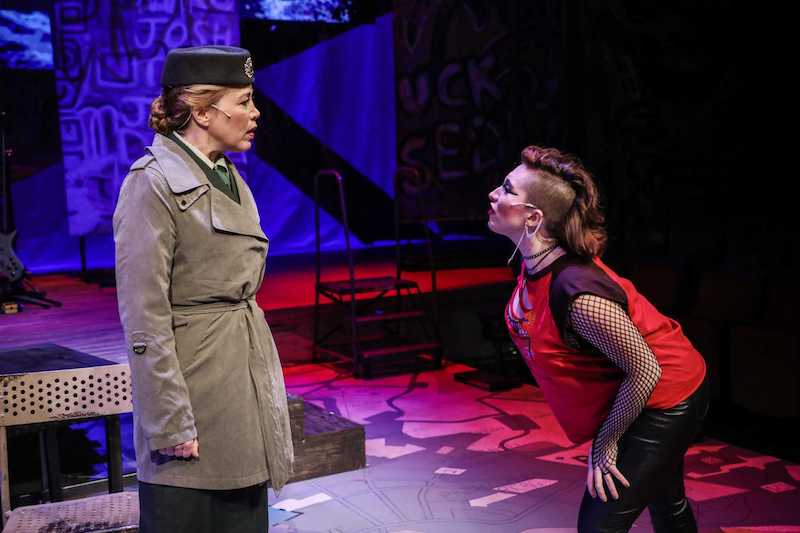 Houston, here's how you can be MacGyver for a night, by Chris Gray who explained, "Houston audiences are about to find out with the world premiere of Stages "MacGyver: The Musical," which runs Feb. 4-March 4 at the Gordy theater.
"In the spirit of the show, the title character each night will be played by a member of the audience." Gray, a correspondent for the Houston Chronicle goes on to give background on the original television show and the character that the musical is based on, and reminds readers of MacGyver's resourcefulness, and how he became a "pop-culture phenomenon". Adding "Which is all well and good, but can MacGyver sing?"
Review: 'MacGyver: The Musical' at Stages is a Clever Invention, by Doni Wilson who reports, "The salute to the iconic '80s show is as ingenious as its main character." And "after having to MacGyver our way through a pandemic, it's the right time for this show's nostalgia and energy, a perfect blend of a superlative cast, comedy and memorable music, with the added drama of MacGyver being played by a member of the audience."
The musical takes us "behind the Iron Curtain so MacGyver can help East Germans who are oppressed. The plot hinges on two East German siblings (Ingrid, played by the stellar Hannah Clarke Levine, and Johann, played spot-on by Mark Ivy) who have not spoken for years after the deaths of their parents."
Wilson describes the songs by composer Peter Lurye as wide-ranging; from wistful and moving to hilarious, and that they "just rock". Lurye also helped MacGyver the opening night performance by stepping in on the keyboard for the musical director.
In his preview, Gray interviewed the musical makers, Lee David Zlotoff, the creator who said "Like the original television show, the musical is something the whole family can enjoy together." And Kenn McLaughlin, Stages' artistic director, joined the project when he heard Zlotoff wanted "his grandkids to have the kind of role model of someone whose first instinct is not about violence", but instead "What do I have inside of myself to change the world?"
Wilson added, "You couldn't ask for a better team of players for this original take on a blast from the past. The cast alone is worth this trip down memory lane when we really did have heroes like MacGyver, who showed us how to get out of difficult moments with humor and hope."
And for those curious about how an audience member can play the lead, Wilson discloses, "This fast-paced and fun musical works because the actors not only have impeccable comic timing, but the singing is terrific." She adds, "Zlotoff convinced McLaughlin to "put a totally unrehearsed, untrained, but courageous human at the very center of the story" — and on opening night "a young woman from Huntsville played the role with good humor and enthusiasm, aided by cue cards."
You'll find the full articles on the Houston Chronicle's site: Preview and Review