Lee Zlotoff '70 invented an iconic character.
It started at Tech.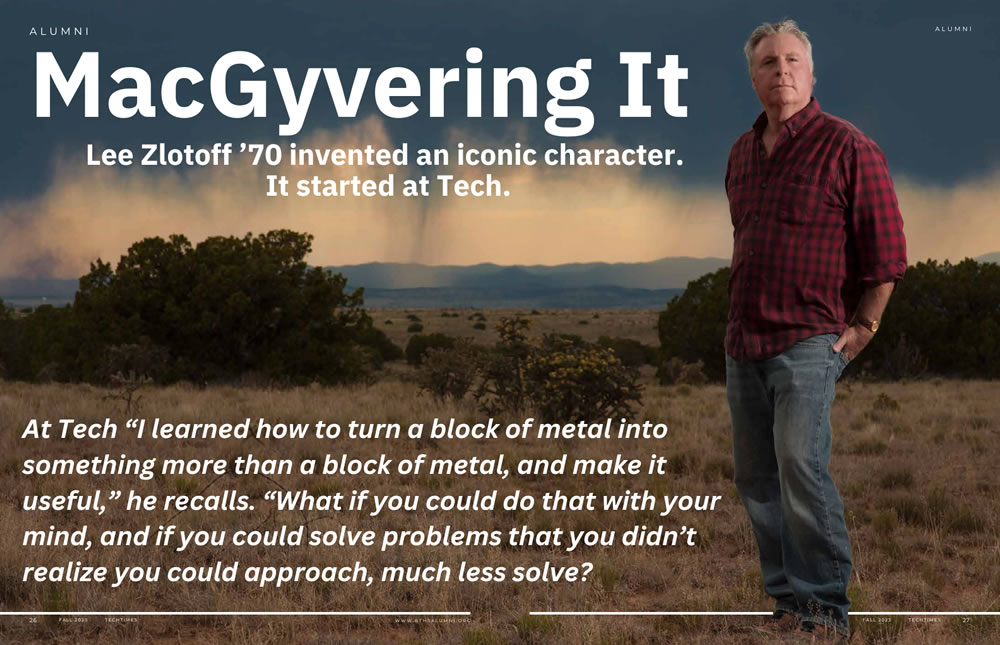 NOT EVEN THE ICONIC HERO figure he created could match the signature achievement of Lee David Zlotoff '70:
He put a word in the dictionary.
The word is MacGyver, defined in the Oxford English Dictionary as "To make or repair (an object) in an improvised or inventive way, making use of whatever items are at hand."
Zlotoff created the 1980s-90s TV series centered on Angus MacGyver, that master of ingenuity who could brainstorm his way out of any fix by conjuring up amazing solutions seemingly out of nothing. (Think duct tape or Swiss Army knife.)
The show ran seven seasons, but Zlotoff retained rights to the brand – and built it into a still-growing phenomenon of spinoffs, books, a public speaking theme and more – a meme so powerful it culminated in the Oxford Dictionary's 2015 enshrinement of the term.
NOT SURPRISINGLY to readers of this publication, Zlotoff credits his high school with inspiring (along with his dad, an inveterate tinkerer) the notion of a MacGyver.
At Tech "I learned how to turn a block of metal into something more than a block of metal, and make it useful," he recalls. "What if you could do that with your mind, and if you could solve problems that you didn't realize you could approach, much less solve? [Tech taught me] there's more than one way to solve a problem."
It would be nice to report that Zlotoff's Brooklyn Tech background drove him directly to create the resourceful character. But the real story took a different turn.
A successful L.A.-based television scriptwrit- er-producer (Hill Street Blues, Remington Steele), Zlotoff was offered an absurd amount of money to develop a new network TV series based on a concept that he was told "had never been done before."
There was just one problem: Zlotoff determined that the concept the network and studio wanted "simply wouldn't work." Tasked with finding another solution, he tried multiple approaches. All failed to satisfy the network suits.
Nearing desperation, Zlotoff broadcast an SOS to his writing buddies, summoning them to an intervention. "I locked the door and announced, 'We're not leaving this room until I have a kickass idea to write my way out of this predicament,'" he later recalled.
When they asked what he had to work with, Zlotoff ultimately admitted, "I've got nothing."
A long silence ensued. Then someone – Zlotoff does not remember who – said, "Okay, let's go with that. Your guy, don't give him anything. That's his deal: he's got nothing."
And so, as Zlotoff tells it, MacGyver was born.
THE SERIES AIRED for 139 episodes plus two TV films, was sold to over 70 foreign countries, and continues to air. As a result, the cultural hunger for more MacGyver grew and, having retained rights to the character, Zlotoff was able to feed it.
Recent years have seen a five-season re-boot on CBS, a new fiction series of MacGyver adventures, and even, who would have imagined it, MacGyver The Musical.
It premiered in Houston in February 2022 to sellout crowds, rave reviews, and awards. In true MacGyver spirit the starring title role is cast in real time out of the audience in every performance, allowing a total novice to MacGyver their way through the show. Zlotoff is now in discussions with investors and producers about mounting the next full-scale production.
But this franchise is about more than entertainment. From it, Zlotoff has derived The MacGyver Secret: the belief that we all have an "Inner MacGyver" we can access to find creative solutions to any kind of problem. It's all explained in a book he co-wrote, aptly titled "The MacGyver Secret: Connect to Your Inner MacGyver and Solve Anything."
Zlotoff has developed the secret into a full-blown program, offering talks and workshops to audiences around the country, including the Jet Propulsion Laboratory, Maker Faire, and Harvard and Stanford universities. What listeners and readers get, his promotional materials offer, is "a simple, revolutionary guide — using nothing more than a pen and paper to tap directly into your inner Mac to become an ace problem-solver."
He also established the MacGyver Foundation, a non-profit charity "dedicated to the encouragement and support of individuals and organizations throughout the world who utilize self-reliance, non-violence and sustainability to improve people's lives."
With all this, what began as pure Hollywood entertainment has evolved into a model for living and thriving amid today's increasingly complex environmental, social, and geopolitical challenges.
Or, as Zlotoff is fond of saying, "We're all MacGyvers now."
• • • • • •
For more about what's happening in the world of MacGyver, visit www.MACGYVER.com.
• • • • • •
Lee Zlotoff and his wife Dayna have announced the establishment this fall of the first $2,500 MacGyver Scholarship. It will be awarded to a student in Brooklyn Tech's Weston Research Scholars Program. 
---
This article, written by Martin Christopher, was featured in Fall 2023 "TechTimes" magazine.
TechTimes is the annual magazine of the Brooklyn Tech Alumni Foundation. More info at www.BTHSALUMNI.org