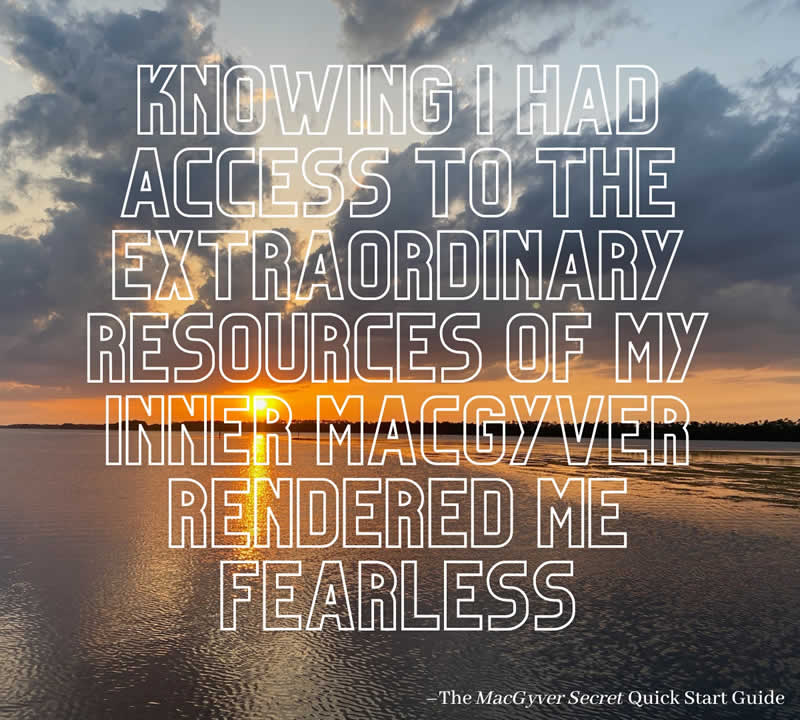 There's an old Asian proverb that goes something like "The journey of a thousand miles begins with a single step."  And, while the journey ahead for the MacGyver Secret for Veterans project may not take a thousand miles, earlier this month and late last month, some of its key first steps were taken… and the footing was solid.
As we outlined in last month's newsletter, MacGyver creator Lee Zlotoff went to the At Ease Campground and Marina outside of Bainbridge, GA to offer the first pilot program of the MacGyver Secret for Veterans.  And a lot was learned on all sides. 
Bottom line, the vets who attended all said they got more out of it than expected and that they intended to continue using the Secret going forward to help them address whatever issues or problems they were facing—which was more than encouraging to say the least.
But not everything went exactly as planned.  Though the initial interest in the program raised by Don Fabian and Patti Mehm, who own and operate At Ease, was high and we expected 30 to 40 vets to attend, in the end, there were a lot of last-minute cancellations and only 16 veterans ultimately took the course. So, what happened?
We suspect that somehow in the outreach process, people got the impression that the Mac Secret was meant to be some form of therapy—which it isn't—and so might have decided it wasn't what they were looking for.  Going forward then, we learned to try and be clearer in our messaging and presentations so that veterans will better understand what to expect from the course and how it might be of value to them.  An important lesson learned.
Of the 16 vets who did attend, 11 were men and 5 were woman.   One of the courses was just for women vets and the others were either all men or a mix of men and women.  Their ages ranged from the late thirties to early eighties with most being in their fifties or sixties.  And though many of them expressed some initial skepticism, once they simply tried the Mac Secret process for themselves, all of them realized how easy and helpful it could be—for everything from finding a lost item like, "Where did I leave my favorite pocket-knife that's been lost for weeks?", to "How do I start this big project that just seems overwhelming?"
And as the courses progressed over the two weeks, three key questions seemed to emerge for many of the participants: 1) Why do I have trouble falling or staying asleep at night? 2) Why do I often seem so quick to anger or fly off the handle? And 3) Why do I so often feel 'stuck' and unable to start or finish even simple projects?"
Fortunately, we're pleased to report that almost all the veterans who asked themselves those questions got clear, positive, and useful answers with many of them reporting that, even while taking the course, they found themselves sleeping better than they had in months—or years.  And now had specific steps to dealing with their short tempers or starting projects that had been weighing on them for some time.  Said one veteran in the sessions, "Thank you for the course, I see nothing but good coming from this."
What's more, all the veterans who came said they wouldn't hesitate to recommend it to their veteran friends and spouses. And have obviously spread the word enough that there's already interest in having Lee return to offer the Mac Secret course again, which we're now planning to try and do sometime this coming fall.
Said Lee of the experience, "Don and Patti couldn't have been more gracious and supportive.  And I was truly humbled and honored by how much all the vets were willing to share about how it not only worked for them, but how best to offer it to other veterans in the future.  Like at one point we were all working together to provide something for any vet that wanted to try it."
The hope is to provide the course to enough vets that we can then use all their input and feedback to publish a new edition of The MacGyver Secret specifically for veterans and their families.
So, while this first pilot program helped show there's still a way to go before the course is ready to offer all our country's veterans, one couldn't have asked for a more promising first step, where however long it might take, every journey starts.
And if you'd like to learn more about the MacGyver Secret for Veterans or know of a veterans' group that might be interested, please let us know at info@macgyver.com.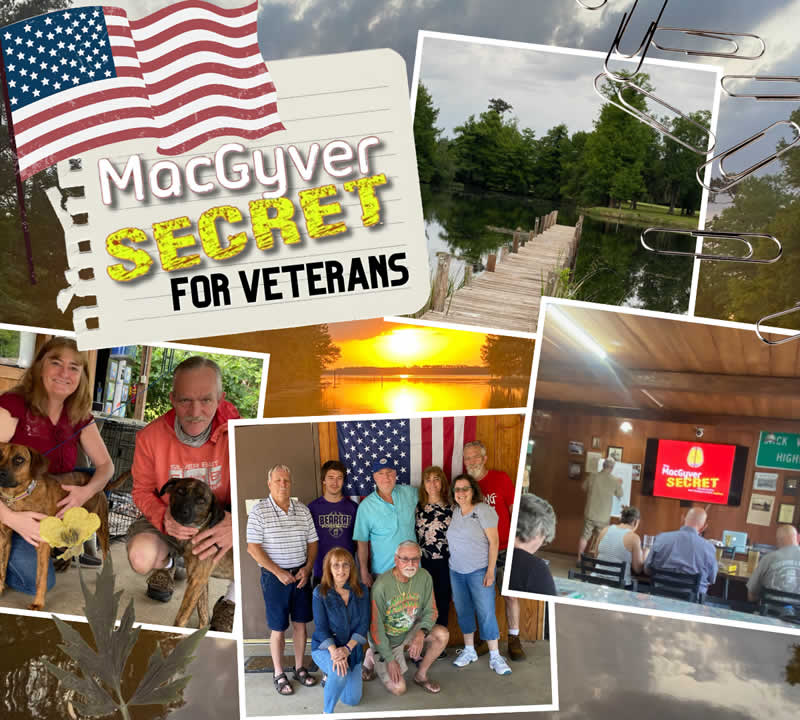 TO FIND MORE ON THE ORIGINAL MACGYVER SECRET BOOK, CLICK HERE