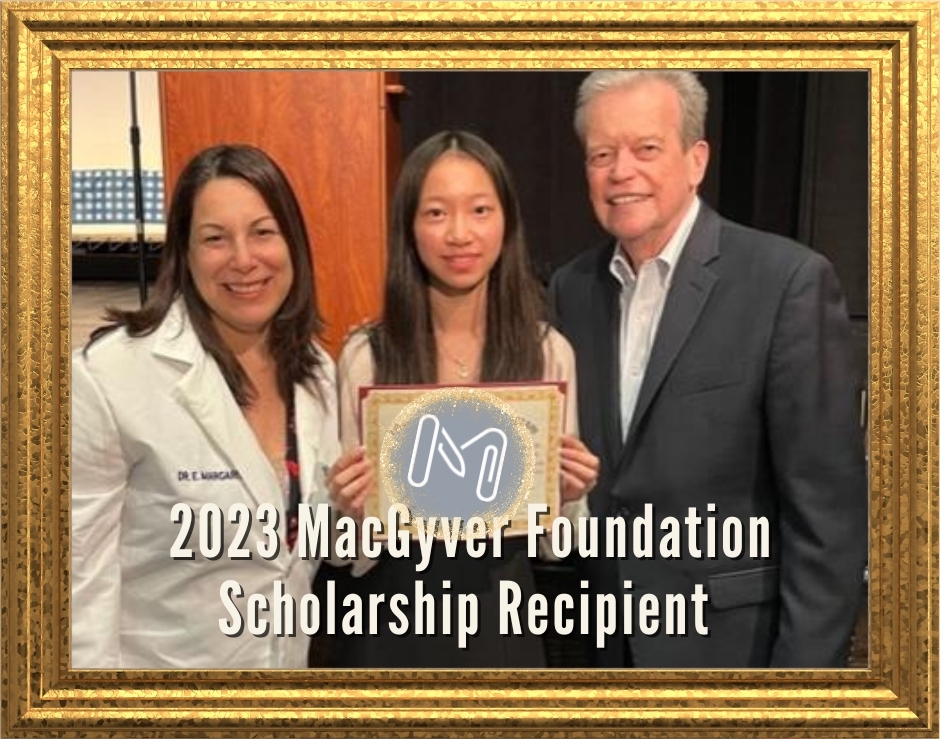 Pictured: Jacklin Xie (center) at the Recognition Ceremony where she was presented with the MacGyver Foundation Scholarship. Also pictured are Jacklin's mentor Dr. Elisa Margarita, and Mathew M. Mandery
Ed.D
, Chief Educational Officer for the Brooklyn Tech Alumni Foundation.
The MacGyver Foundation has presented a 2023 scholarship to outstanding Brooklyn Tech student Jacklin Xie for her achievements in STEM research. Her most recent studies endeavor to improve indoor air quality utilizing living walls as an affordable alternative to air purification systems.
"I am so grateful to the MacGyver Foundation for this award so I can continue my innovative research," says Jacklin, who was chosen from rising seniors in the Weston Research Scholars Program at Brooklyn Tech, the alma mater of MacGyver creator Lee Zlotoff. The program is a highly selective research class for Brooklyn Tech's highest-achieving STEM students. Teachers recommend freshmen who have demonstrated excellence in their classes for the program—especially STEM-related subjects. Those accepted into the program can take full advantage of access to laboratory space, guidance from mentors with scientific backgrounds, and the opportunity to work in university labs across New York City.
MacGyver Scholarship Recipient, Jacklin Xie is currently involved with Ladders for Leaders, NYC's summer youth employment, pursuing an internship at Brooklyn College, and continuing her work on air quality and the impact of green walls in urban spaces. While the Brooklyn Tech building is closed for the summer, Jacklin is preparing sensors that can be installed when school reopens.
In addition to being a highly active Weston Research member, Jacklin is entering her third year as an avid and decorated member of Brooklyn Tech's Science Olympiad. Her specialties are, not surprisingly, inquiry events that require her to solve problems on-the-spot using experimental design, cipher decoding, and estimation skills. Last year she represented Tech in six of seven day-long competitions. She and her partners continue to prepare through the summer for their upcoming tournaments.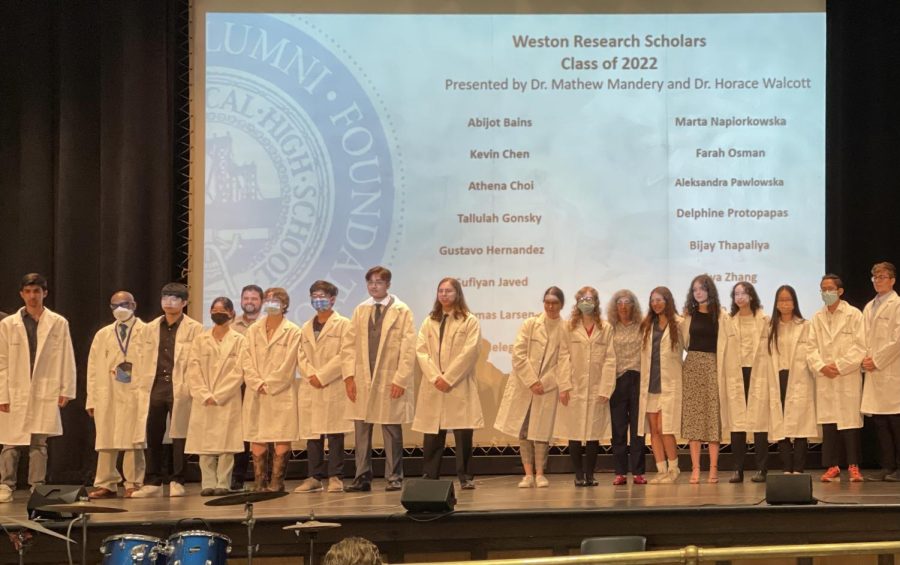 Pictured: The 2022 Weston Research White Coat Ceremony awarding the efforts of the graduating Weston Scholars.
My name is Jacklin Xie and I am a rising senior in the LIU PharmD major at Brooklyn Tech. As part of the Weston Research Program, I have been conducting research on the living walls under Dr. Margarita's mentorship. After school, I am a member of the school's Science Olympiad team in the inquiry block, the community service committee of the National Honor Society, Key Club, and a few other clubs. Last summer, I volunteered at the Boro Park Center for Rehabilitation and Nursing and came to realize that poor indoor quality persisted not only at schools but in other indoor spaces as well which is why I continue to do my research.
Research Description: In response to the recent COVID-19 pandemic, my focus shifted towards the issue of poor indoor air quality which led to my research on evaluating the potential role of implementing living walls as a cheaper alternative to air purification systems by examining the effectiveness of living walls in improving indoor air quality. Using the living wall installed outside of Tech's environmental lab, I have been collecting data on the air quality in the hallway for almost the past 2 years. Based on the data I had collected, I found that the presence of plants in the wall does not significantly contribute to removing vast amounts of air pollutants, but instead helps to regulate air pollutant concentrations and keep them within a certain threshold that is still considered healthy. This data provides important information because it shows how much of an impact plants would have and the real world implications and benefits we should expect to see, not to mention the various additional psychological and physiological benefits that living walls bring.
Next year, I plan to continue an extension of my current research by examining various leaf traits of different plant species that may contribute to better and more efficient air purifying abilities. This way, I can determine the best plant species for living walls to maximize their air purifying effects. To do this, I am currently searching for a professor at a nearby university who would be willing to take me into their lab and guidance.
We look forward to following the research of Jacklin Xie, and hope the scholarship funds help launch her to closer successes. The MacGyver Foundation would like to extend our appreciation to the Brooklyn Tech Alumni Foundation for allowing us to contribute to those who take MacGyvering to a whole new level.
More information on the MacGyver Foundation at MacGyver.com/Foundation